Washi is made from plant fibers such as kozo (paper mulberry), mitsumata, and gampi, and is handmade in Japan by mixing these long fibers with a vegetable mucilage called neri (a sticky substance produced when the roots of the tororoaoi plant are ground) to make them evenly intertwined.
However, with the passage of time, only a few percent of handmade washi is produced in Japan.
Washi, which is made by machine instead of hand-spinning, is also introduced as "washi" in the "Japanese Paper Products" section of this Japan Information page.
<Reference>
Modern washi (paper with a "washi" look and feel), especially shoji paper and hanshi paper, which are in high demand, are often made from non-traditional raw materials or machine-made paper that can be mass-produced. In many cases it is difficult to distinguish them by visual inspection alone. Washi made from raw materials that differ from traditional production methods and machine-made washi are not fully verified for durability and age-related deterioration, and many have drawbacks such as staining and fiber embrittlement. For this reason, there are some who do not approve of the mixed use of the term "washi" in the sense of paper made from traditional Japanese raw materials and manufacturing methods.
(Source: Wikipedia)
In our website, Nihon Ai Test - Japan Information Introductory Test (free of charge), we introduce rare handmade Japanese paper as "Tesuki Washi".
Please take this opportunity to deepen your knowledge of handmade Japanese paper, a part of Japanese culture.
Yamagata-ya Paper Store, located in Jimbocho, Tokyo, has been in business for about 150 years and is a "Imperial Household Agency warrantee." The long-established paper store introduces us to the characteristics of "washi" paper from an eye-opening perspective, as well as washi paper that we cannot see in our normal daily lives.
Nihon-i Test Introductory Test, Handmade Japanese Paper, Washi Network, Yamagataya Paper Store.

Ministry of Agriculture, Forestry and Fisheries June 2021
You can see the production volume of washi raw materials and photos of kozo, mitsumata, gampi, and tororoaoi.
External website (PDF) 
URL: https://www.maff.go.jp/j/seisan/tokusan/attach/pdf/tokusan-3.pdf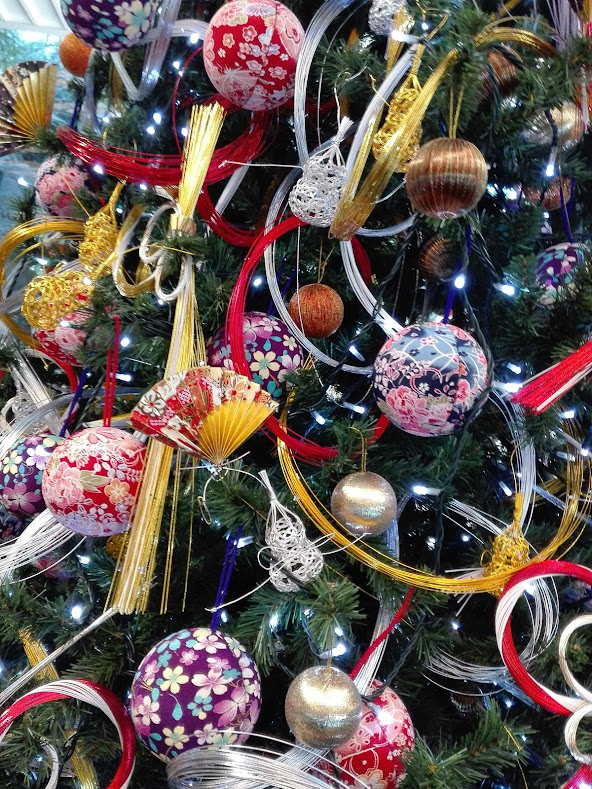 Above is an ornament that was on the Christmas tree several years ago at the Hotel Gajoen Tokyo in Meguro-ku, Tokyo.
A Christmas tree was decorated with mizuhiki made of Japanese paper, a small fan made of Japanese paper, a ball made of Japanese paper, and a gourd made of woven mizuhiki. The Christmas tree was full of Japanese culture and Japanese techniques.
Mizuhiki is a thin string made of paper.
Washi is also used for the core of mizuhiki.
Then...all mizuhiki are made of Japanese paper.
The mizuhiki colors used here, such as gold, silver, red, and white, are used to decorate the Christmas tree, using only the colors of mizuhiki used for celebratory occasions.
Mizuhiki is an essential item for Japanese ceremonial occasions. Gold and silver "gourds" are also made of woven mizuhiki, which are delicate and beautiful.
Hotel Gajoen Tokyo has the Hyakudan Staircase, a tangible cultural property designated by the Tokyo Metropolitan Government.
External site: Hotel Gajoen Tokyo HP
 URL: https://www.hotelgajoen-tokyo.com/
Introductory test on mizuhiki (free of charge) is posted on this website in the "Washi Network Mizuhiki hinatamusubi" section. The test is free of charge.
Mizuhiki has long played an important role in Japanese culture in ceremonial occasions such as weddings and funerals. Why don't you take the "Introductory Test: Mizuhiki"?
 You will learn what mizuhiki is made of, mizuhiki etiquette, and the basics of mizuhiki for weddings, funerals, and ceremonial occasions.
Nihon Ai Test "Introductory Test: Washi Network Mizuhiki hinatamusubi hinatamusubi
Although I have not researched the raw materials and production method of the hanshi paper actually used on this day, I will introduce it here as Japanese paper in broad terms.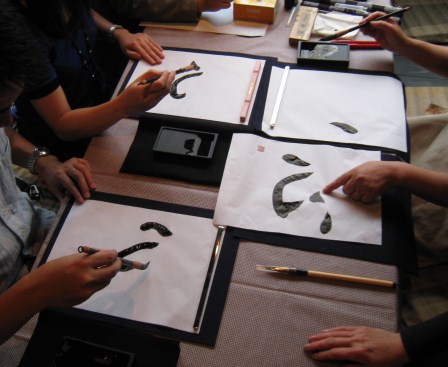 The hanshi (white paper for writing characters) used in Japanese calligraphy is also made of washi, a type of paper that can be broadly classified into two categories.
Calligraphy experience at Nanami Japanese Culture:
On this day, non-Kanji speakers enjoyed calligraphy in Kanji characters, and the choice of Kanji was "Kokoro (heart)".
The calligraphy instructor presented several types of hanshi, explaining that large hanshi, long hanshi, and hanshi of various paper qualities exist, and the uses for each.
 The participants were surprised at the variety of hanshi used in calligraphy, the thinness of the paper, and the profoundness of hanshi .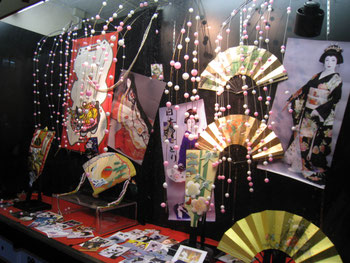 Japanese fans (sensu) are also made from Japanese paper.
A fan made of paper is called a "paper fan" and a fan made of cloth is called a "cloth fan.
Although not pictured, some fans (uchiwa) are also made of Japanese paper.
We regret that we are unable to post photos of Japanese banknotes (shihei). I heard that there is no problem to post the photo, but if it is printed, it would be against the law, so I decided not to post the photo. This is Japanese law. Please be careful.
<Reference>
If you post the Japanese banknote images taken with a digital camera on your website or blog, the act itself is not subject to control under the "Currency and Securities Imitation Control Law". However, if the photos are printed out, they may violate the law, so please be careful.
(Source: Ministry of Finance website)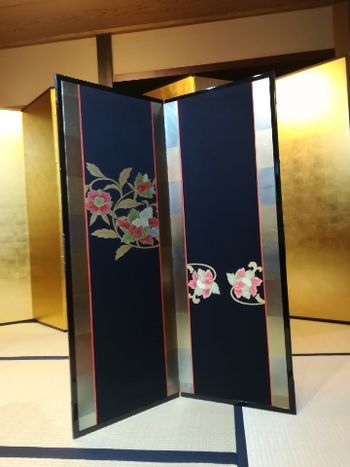 A folding screen is also made of Japanese paper. The base of the folding screen is made by repeatedly applying thin washi paper to a wooden frame, and finally, the paper for the surface, hon-gami, is attached to complete the process.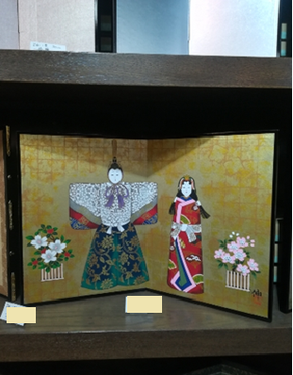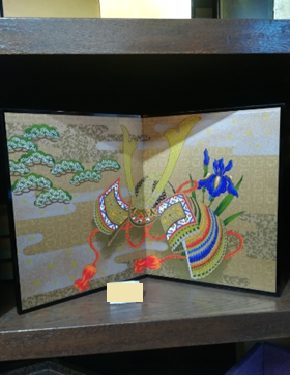 This decorative folding screen is made by pasting several layers of Japanese paper.
Left: Hina Doll / Right: Kabuto (helmet)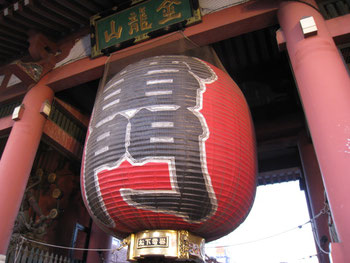 Japanese paper is used for chochin.
 The shape of the chochin is made with bamboo strips. Washi paper is also used to hold the bamboo strips in place.
Japanese paper is also applied to the surface and letters are written on it.
Japanese craftsmanship! Japanese traditions handed down only by Japanese craftsmen! These are Japanese lanterns, Japanese culture that we want to preserve for future generations.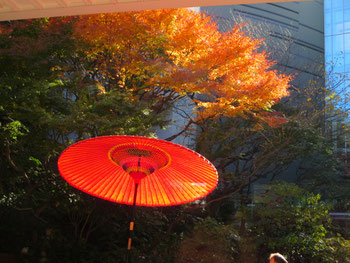 Wagasa = Japanese umbrella, a traditional Japanese umbrella made of paper, is also made of Japanese paper.
The process of making a wagasa involves more than 100 steps, and the materials used to make wagasa include bamboo, Japanese paper, kakishibu (persimmon tannin), and several types of vegetable oil.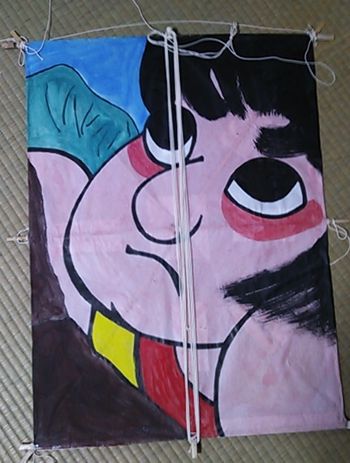 Japanese kites (wadako) are also made of Japanese paper.
This Wadako is a handmade Japanese kite that we cherish, made by splitting bamboo for the kite bone, making a thin bamboo string, and hand-painting a picture of "Kintaro" on Japanese washi paper.
Other typical examples of washi use are shoji (paper sliding doors) and fusuma (sliding screens), which are indispensable for Japanese-style houses. Fewer and fewer single-family homes in Japan have shoji and fusuma sliding doors. They are rarely seen in condominiums.
In the small stuff.
Kaishi: Used for chanoyu (tea ceremony) and kaiseki cuisine.
Tatoshi: Used for wrapping and storing kimonos * Recently, there are some that are not made of Japanese paper.
Letterhead and Envelopes.
Origami.