There are many theories about the origin of soy sauce. Tamari soy sauce was first produced in Japan.
Tamari soy sauce is also known for its high umami content.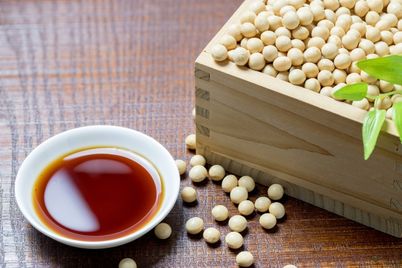 No. 1 Kikkoman (Noda City, Chiba Prefecture)
No. 2 YAMASA (Choshi City, Chiba Prefecture) 
No. 3 SHODA SHOYU (Kikkosho) (Tatebayashi City, Gunma Prefecture)
No. 4 Higeta Shoyu (Chuo-ku, Tokyo)
No. 5 Marukin Soy Sauce [annotation 3] (Shodoshima-cho, Shodo-gun, Kagawa) 
No. 6 HIGASHIMARU SHOYU (Tatsuno City, Hyogo Prefecture) 
As of 2020, the six major soy sauce manufacturers will produce approximately 60% of the soy sauce distributed in Japan.
(Source: Wikipedia)
No. 1 Chiba Prefecture Approx. 37% of domestic shipments (based on 2020 survey)
Noda City and Choshi City are famous for their soy sauce. You can smell the aroma of soy sauce from the streets as you drive by.
Kikkoman Corporation offers a tour of the soy sauce production process at the Kikkoman Soy Sauce Museum in Noda City, Chiba Prefecture.
YAMASA CORPORATION offers a factory tour center in Choshi City, Chiba Prefecture, where you can watch a film about how soy sauce is made. (Factory tours and the Soy Sauce Tasting Experience Center have been suspended since March 2020 to prevent the transmission of viral infections.)
No. 2 Hyogo Prefecture Approx. 15% of domestic shipments (based on 2020 survey)
Tatsuno City. The city is famous for producing light soy sauce unique to the Kansai region.
3rd Kagawa Prefecture
Shodoshima is famous, and soy sauce production developed because of its proximity to Osaka, a major consumption center in the Kansai region, and Shodoshima's mild climate, which was ideal for koji fermentation.
The photo below shows a bottle of "KIKKOMAN Soy Sauce - Always Fresh - Ajiwai Rich - Reduced-sodium Soy Sauce. In recent years, vacuum-packed containers, which are said to prolong the freshly opened flavor, have appeared in various forms, not only from Kikkoman but also from other companies.
 Vacuum packaging prevents air from entering the soy sauce, so the soy sauce will not oxidize, and the aroma and taste of the soy sauce will remain freshly opened and delicious until the end of use.
With the advent of this soy sauce vacuum package, I feel that the landscape of soy sauce at the table has changed. You can see these bottles on the dining table and vacuum soy sauce containers in restaurants.
What about the soy sauce container? Where has it been put away?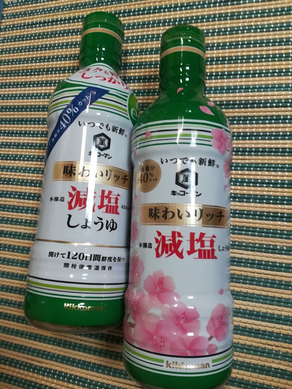 During the cherry blossom season, the products were packaged in cherry blossoms.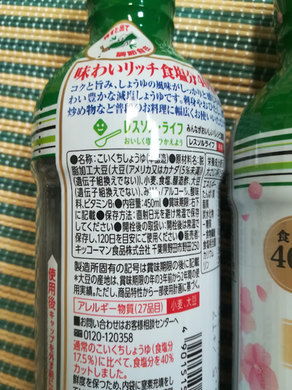 Low-sodium soy sauce Less Salt Life - 40% salt reduction
Soy sauce is made from soybeans, wheat and salt.
1. Make koji. Soybeans and wheat are mixed with koji mold and left in a koji room.
Koji bacteria is a type of mold. Koji fungi turn soybeans and wheat into soy sauce.
2. The name of the process is called "shikomi"(preparation) .
Dissolve salt in water and put it together with koji in a large tank or wooden barrel.
3. Next, "Hakko and jyukusei"(fermentation and maturation) is performed. The taste and color of soy sauce are changed by the action of microorganisms such as lactic acid bacteria and yeast. This is called "hakko" and leaving the soy sauce as it is is called "jyukusei".
4. Next, the soy sauce is pressed. Pressing (called "assaku") is the process of putting the mash into a cloth bag and applying pressure to squeeze out the soy sauce. This produces "raw soy sauce".
5. Next, add heat. Heat is applied to the raw soy sauce. The purpose of heating is to sterilize the soy sauce.
6, and finally, "soy sauce" is completed by filling bottles, PET bottles, cans, etc.
*The method of making soy sauce may vary from soy sauce company to soy sauce company. Please check with each soy sauce company for details.
Soy sauce is a fermented food. It has long been said that not only soy sauce but also those involved in brewing (including sake and miso) should be careful what they eat for breakfast because it contains bacteria that can interfere with fermentation, such as lactic acid bacteria in yogurt and natto bacteria in fermented soybeans.
In the 1910s, there were 13,000 soy sauce factories throughout Japan. Today, there are only about 1,200 soy sauce factories in Japan, about one-tenth of the original number.
Yamagata and Kyushu regions are characterized by particularly sweet soy sauce.
Each of the soy sauce factories across the country seems to have its own unique regional flavor.
Introducing 100-year-old soy sauce from Hishiyamarokushouyu Co., Ltd. in Niigata City, Niigata Prefecture.
Unfortunately, Hishiyamarokushouyu of Niigata City was not ranked among the top six soy sauce makers in Japan, but it is listed in Wikipedia as a soy sauce maker in Niigata Prefecture. Hishiyamarokushouyu Co., Ltd. has a long history of exporting soy sauce to Europe and developing new seasonings such as sauces as well as soy sauce using its own unique methods.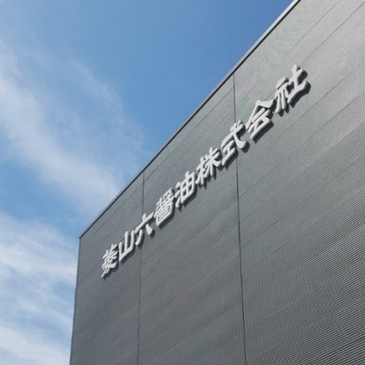 Hishiyamarokushouyu Company Website 
URL: https://www.hishiyama6.co.jp/
Some products of Hishiyamarokushouyu Co., Ltd. are also available from Rakuten, Inc.
 External site Rakuten URL:.
 https://search.rakuten.co.jp/search/mall/%E8%8F%B1%E5%B1%B1%E5%85%AD%E9%86%A4%E6%B2%B9/
Test questions related to soy sauce are posted on our website at "NIHON AI TEST Introductory Test: Soy Sauce Hishiyamarokushouyu ". The introductory test is free of charge, so please give it a try.
I would like to give you one thing to keep in mind when you take the free introductory test for soy sauce.
According to the interview, the president of Hishiyamarokushouyu Co., Ltd. said that in his previous job, he "took pleasure in creating difficult test questions," so the questions are slightly academic in nature. We recommend that you read this page "Japan Information: Japanese Food Culture - Soy Sauce" from beginning to end before taking the test.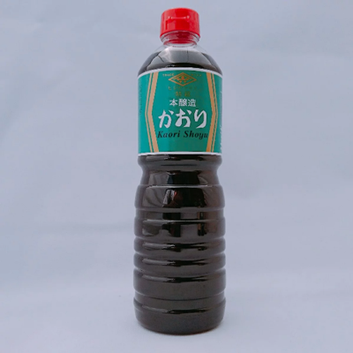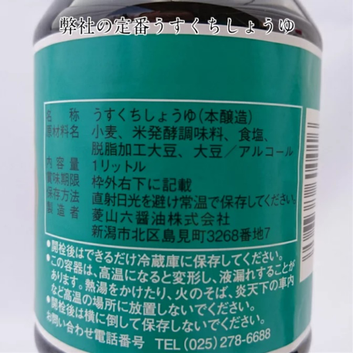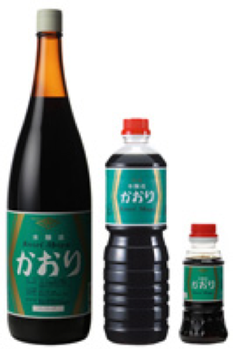 This is the most popular soy sauce from Hishiyamarokushouyu in Niigata City, Niigata Prefecture.
 This light soy sauce contains no chemical seasonings, synthetic preservatives, or synthetic coloring agents.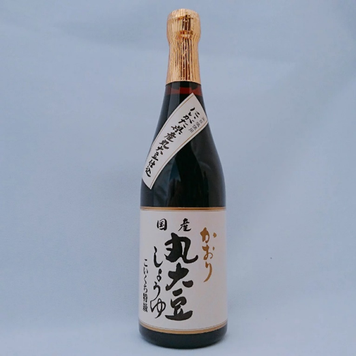 Honjozo special grade koikuchi soy sauce made from Niigata Prefecture soybeans and sun-dried salt is used for a mild finish.
It is widely used in kappo restaurants and ryotei (a high class restaurant serving Japanese cuisine) as well as at home.
This is a higher grade product than the No. 1 popular light soy sauce "Kaori".
Kaori, Hishiyamarokushouyu's signature product, has the meaning of a woman's name and the connotation of "good aroma".
Processed soy sauce, bonito flavor, slightly sweet.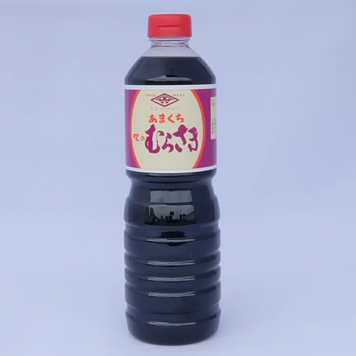 Dried bonito soup stock all-purpose seasoning.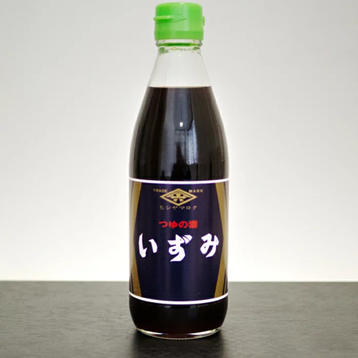 The trade name (trademark) of Hishiyamarokushouyu Co., Ltd. is a diamond shape on the outside, with a mountain inside and the name Rokubei, the first Rokubei's name, below it.
"Izumi" is a soup stock that contains no chemical seasonings, synthetic preservatives, or synthetic coloring agents.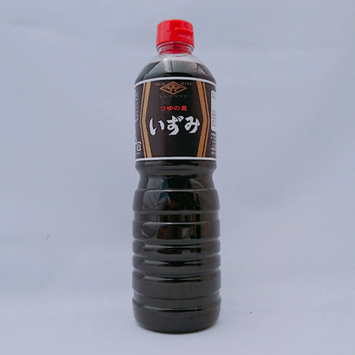 Men-tsuyu Izumi: 1 liter size for virtuous use.
When used as men-tsuyu (noodle soup), it is 10 times concentrated, so it can be used in large quantities.
*Mentsuyu on the market is usually 2 to 3 times concentrated.
Round soy soy sauce, rice black vinegar, domestic yuzu juice.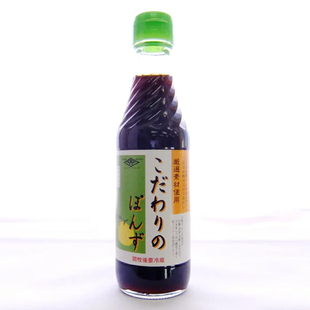 Japanese sudachi Japanese lemon.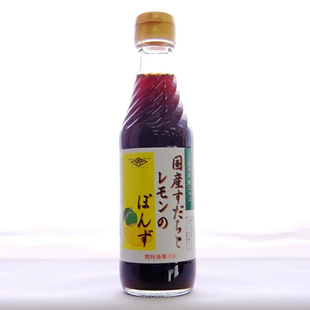 This ponzu vinegar has a refreshing double acidity of Japanese citrus and Japanese lemon.
It is perfect for hiya-yakko (chilled tofu), Japanese salads, and steamed chicken.
In Niigata City, Niigata Prefecture, "Mandai Daiko" festival music is played using wooden barrels (taru), which used to be "soy sauce containers" in place of taiko drums. (Left side of the image)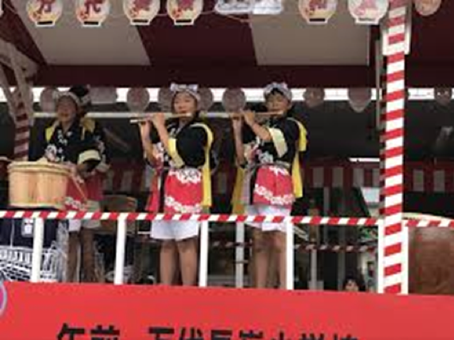 They can decolorize soy sauce to make it transparent. They can also add color later in the process of making soy sauce to create various colorful soy sauces, such as red or blue.
Will we see "baeru" (instagenic) soy sauce in the near future? We look forward to the future of soy sauce.
Japanese soy sauce is made only from vegetable ingredients.
Thai fish sauce is similar to soy sauce, as are Thai fish sauce and Vietnamese gnoc mam, but these fish sauces are distinguished from Japanese soy sauce because they use animal (fish) ingredients and salt.

Japanese food culture uses soy sauce particularly frequently as a seasoning. It is no exaggeration to say that even foreigners living in Japan cannot go a day without eating soy sauce.
Japanese soy sauce is delivered across the sea not only to Asia but also to Western countries.
Soy sauce is often used as it is with sashimi, sushi, and seafood bowls, but there are also various sauces made from Japanese soy sauce. One flavor that is especially popular among foreigners is the well-known "teriyaki" flavor. The combination of "teriyaki" and "mayonnaise" is the best combination. You will hear them say, "TERIYAKI Oishii!"("TERIYAKI Yammy!").
We believe that Japanese expatriates (overseas transferees, business travelers, study abroad students, etc.) will have many opportunities (parties) to showcase Japanese home cooking abroad. In such cases, it is convenient to first obtain Japanese soy sauce locally, as it can be used in a variety of ways.
Just a note of caution, some vegans do not like soy sauce. Some use it. It's a difficult thing to judge because individuals interpret it in different ways.
Halal (Muslim) people cannot eat regular soy sauce because alcohol is not allowed.
The reason is that alcohol is produced by yeast fermentation during the soy sauce production process.
Halal (Muslim) people eat sashimi with salt and wasabi or salt and sesame oil. Soba noodles are also served with salt and wasabi. I felt "cool Edo style" in this way of eating.
There are soy sauce makers in Japan that sell soy sauce that has received Halal certification from an international certifying organization.